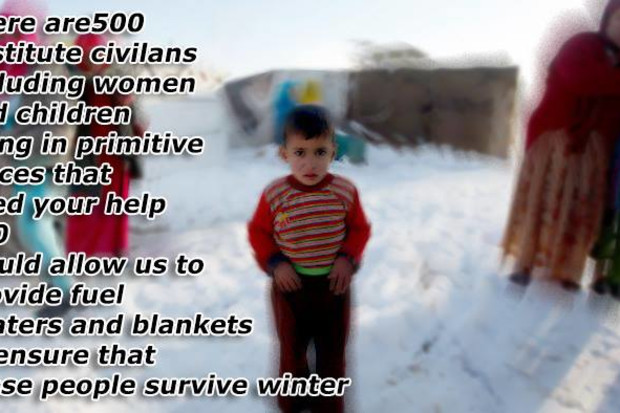 $** would allow us to provide fuel, heaters and blankets to ensure that these people survive winter.
Very soon, there will be a volunteering campaign to be launched in the Northern of Syria for IDPs` families of over 500 people from the city of Deir Ezzor, due to the march of ISIL forces towards the Northern of Syria. In fact, those families live under extremely harsh circumstances, where they have no shelter, no resources, and no food (they are dwelling in the open areas and abandoned ruined houses, with no windows, doors, or even any piece of furniture).
Therefore, the campaign is designed to provide heating devices, blankets, and diesel. Also,it will be providing all necessary items to fight the up- coming freezing winter, that is estimated to last for over six months( with possible harsh snow storms-that could last for over 20 days-, according to the weather reports)
There will also be a fully-documented process for the entire campaign( formal receipts, videos of distribution, etc).
Speaking the language of figures, it is worth mentioning that only ($50) can provide full coverage for one person of those families. So, with only ($50) you can save somebody`s life throughout this campaign. No limitations on the number of people you want to sponsor, so, you can protect as many people as you can, with only($50).
All the above-mentioned cases( including the elderly, women and children) cannot provide themselves with the minimum living standards, so in providing assistance to them, you are actually saving their lives, for warmth means life in the midst of the freezing winter.
All documentation papers and videos will be available on the following link:
https://drive.google.com/open?id=0B2lbjhz45dweREdWQXM3Ym80dFU
Attention point: The minimum amount of the donation does not include the taxes imposed by the assurance companies, therefore, providing the minimum amount of donation does not mean providing the required amount of warmth for the families.
سيكون هنالك حملة تطوعية في ريف حلب الشمالي لـ 500 شخص من عوائل نازحين من ريف ديرالزور بسبب تنظيم داعش نحو ارياف الشمال السوري، هؤلاء النازحين لا يوجد اي أحد يدير لهم بالاً لذلك يعيشون ظروفاً سيئة للغاية حيث أنهم لا يمتلكون قوت يومهم ويعيشون في العراء او منازل بدائية لا يوجد لها حتى شبابيك او نصف مكتملة او ينامون في ابنية مكشوفة على صفائح توتياء.
ستتضمن الحملة شراء مدافئ وديزل وبطانيات وكل مستلزمات تحمّل الشتاء كاملة عن 5 أشهر من الشتاء والبرد القارس، يمر خلالها 3 عواصف شديدة سيكون 2 منها طولها 15-20 يوماً، وستكون من اقسى العواصف التي مرت على المنطقة.
وسيكون هنالك عمليات توثيق من خلال فواتير رسمية بالاضافة الى فيديوهات وصور عن كامل الحملة وعمليات الشراء والتوزيع.
تستطيع أن تكفل شخص بـ 50$ تشمل تدفئته خلال الشتاء كاملة، حيث أنه بعد وضع خطة ودراسة للأمر ستكفل الـ 50$ هذه تدفئة كل شخص من هؤلاء لفترة الشتاء كاملة وستبقيهم على قيد الحياة بمعدل الحد الأدنى من المتطلبات الإنسانية للشخص الواحد كي يستطيع تحمّل أعباء الشتاء القاسي.
كل 50$ تكفي شخص واحد، دون تحديد لعدد الاشخاص الذي تستطيع كفالتهم.
ان جميع الحالات المشمولة في الحملة لا يستطيعون تأمين ما يأكلونه في يومهم لذلك تأمين هذا الحد الادنى من التدفئة لهم يعني انقاذ حياة الكثيرين منهم وبينهم أطفال ونساء وشيوخ، وتعني بالتأكيد انقاذ صحتهم وكرامتهم الانسانية جميعاً من ناحية التدفئة خلال فترة الشتاء كاملة.
سيتم اتاحة كافة الوثائق والصور والفيديو للحملة وصرف المبالغ على الرابط التالي:
https://drive.google.com/open?id=0B2lbjhz45dweREdWQXM3Ym80dFU
تنويه : الحد الأدنى لا يشمل الضرائب المفروضة من الموقع ومن ادارة شركات الائتمان والتحويلات الخارجية، لذلك الوصول للحد الأدنى لا يعني الحصول على القدر الكافي لاتمام عملية التدفئة.