Israel Defence Forces chief of staff speaks on third anniversary of start of a major three-week Gaza assault
Harriet Sherwood in Jerusalem · guardian.co.uk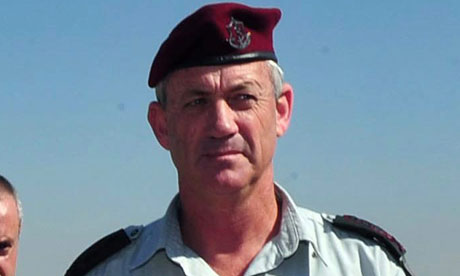 Benny Gantz said there would be 'no escape from conducting a significant operation'. Photograph: Ariel Hermoni/EPA
A new Israeli military offensive against Gaza will be launched "sooner or later" and will be "swift and painful", Israel's most senior military officer has warned.
Benny Gantz, the chief of staff of the Israel Defence Forces, was speaking on the third anniversary of the start of a major three-week assault on Gaza during which around 1,400 Palestinians and 13 Israelis were killed.
That offensive was "an excellent operation that achieved deterrence for Israel vis-a-vis Hamas", Gantz told Army Radio on Tuesday. He added there were signs that the deterrent effect was wearing thin.
"Sooner or later, there will be no escape from conducting a significant operation," he said. "The IDF knows how to operate in a determined, decisive and offensive manner against terrorists in the Gaza Strip."
Within hours of Gantz's comments, the Israeli military launched two airstrikes on targets in Gaza, killing one person and injuring around 10, according to local reports.
A spokesman for the IDF said direct hits on two "terrorist squads with global jihad associations" had been confirmed. According to security officials quoted by Israel Radio, one of the targets was a cell en route to Sinai with the intention of launching an attack on Israel from Egypt.
Since the end of the Gaza war in January 2009, Hamas has attempted to enforce a ceasefire among militant groups, although sporadic rocket fire has continued. Israel holds Hamas, as the de facto government, responsible for all rocket fire emanating from Gaza.
There have been suggestions in recent weeks that Hamas is ready to distance itself further from attacks on Israel as part of its reconciliation process with its rival faction Fatah.
"They have accepted popular [non-violent] resistance," senior Fatah official Mohammed Shtayyer said, adding that Hamas would stop "these fireworks" being launched.
However, Hamas officials have also said they reserve the right to self-defence and the prime minister, Ismail Haniyeh, pledged to continue "resistance" at a public rally this month.
Gantz's comments were meant "to keep [Hamas] on their toes", according to the Israeli analyst Yossi Alpher, who said: "He's letting us know that another operation is possible and it would be successful."
Alpher identified two constraining factors – moves towards Fatah-Hamas reconciliation "which may change the political nature of the Gaza regime", and Egypt. "In the past, we could assume that if we launched an operation in Gaza, [former president Hosni] Mubarak would be largely sympathetic. That's not necessarily the case now," he said.
Hamas's message was not unequivocal or comprehensive, he said, adding: "The question is, are we witnessing an evolutionary process in which Hamas follows the lead of Islamists in Egypt and Tunisia away from violence and into politics? My sense is we are, but it's a slow process."
Shlomo Brom, of the Institute for National Strategic Studies, said a new offensive on Gaza could be pre-empted by political developments, including the opening of a covert dialogue between Israel and Hamas.
"The developments of Hamas's position taking into account the effects of the Arab spring could open different possibilities," he said.